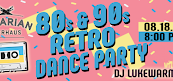 80s & 90s Dance Party. Round 2!
Start: Friday August 18, 2017 at 8:05pm CDT
End: Saturday August 19, 2017 at 12:00am CDT
Come to Bavarian Bierhaus for an 80s and 90s night dance night out with DJ Luke Warm! Rock to top hits from some of the biggest stars like Michael Jackson, Prince, Depeche Mode, INXS, Whitney Houston, TLC, Backstreet Boys, many others. You'll love the music videos playing on the gigantic TV screen. So mark your calendars for Saturday, August 19, and we'll see you on the dance floor!